А вот и восьмая серия подоспела!
Пожелаю хозяйке этого журнала и всем нам, чтобы всегда возникал повод зайти сюда)
Спасибо Вам за труд, терпение, интерес!
К сожалению, на торрентах серия до сих пор не появилась.
Ура, серия уже на торрентах!
Когда видео уже было почти готово, в сети появился репортаж с церемонии с великолепными крупными планами и отдельным "спасибо" от Хью. Ну как можно было удержаться! И я вмонтировала пригодные кусочки в запись прямого эфира. Приятного просмотра.
2016-10-25 - Hugh Laurie - Walk of Fame Ceremony from Sofiko1968 on Vimeo.
Перевод - kotofyr, монтаж и субтитры - sofiko1968, для сайта
house-md.net.ru
Примечания:
1 . Астрофизик, популярный автор и телеведущий
2. Трамп заявил, что не примет результаты выборов, если изберут не его
3. Хоккеист
4. Цитата из Генри Менкена, американского писателя и журналиста; разумеется, Хью (и ораторы до него) говорит о коктейле, изобретенном в начале ХХ века, а не об итальянском вермуте
5. Злые языки утверждают, что лучшую неаполитанскую пиццу можно теперь попробовать только в Нью-Йорке
6. Джинсы как вид брюк были изобретены Джейкобом Дэвисом и Леви Страуссом в 1871 г. в США
7. Американский комик, писатель, ведущий
8. Выставлялся в президенты в 2012 году, «прославился» ужасным фасоном джинсов
9. Стилистический приём, когда название общего переносится на частное
10. Альбом Sista Jean & CB 2015 года
11. Фрай снимается в новом сериале на CBS
Видео
Субтитры
Церемония открытия звезды Хью Лори на голливудской "Аллее славы" в слегка сокращенном варианте.
The Wall Street Journal
в открытом доступе. Ещё сегодня с утра я её видела, а теперь уже не вижу (бесплатный доступ закрыт). Я успела скопировать из неё часть с интервью, так что вот и оно, собственно:
Хью Лори - другой тип доктора в драме-нуар 'Ченс'Когда вы выбираете проект, беря за основу сценарий, часто ли вас удивляет то, что получается в результате?
Мой опыт показывает, что почти всегда получится так, как я себе представляю, не лучше и не хуже первой реакции. Я не утверждаю, что это потому, что у меня есть какой-то особый талант судить об этих вещах, я имею в виду, что успех или провал любого проекта полностью в руках автора. Вот так всё просто.
(
Read more...
Collapse
)
[
Интервью в оригинале
]

When you choose a project based on a script, are you often surprised by how the finished product turns out?

My experience is that things almost always turn out the way I imagine them, neither better nor worse than one's first reaction. I'm not claiming that's because I have any skill at judging these things, but what I mean is that the success or failure of any project is completely in the hands of the writer. It's that simple.

But you also have to make choices based on the characters that will surround yours, because you do get judged by the company you keep on screen.

Absolutely. If one instrument in the orchestra starts wandering off in a different key, you've got a truly terrible sound. With "Chance," not only were they incredibly enjoyable people to work with and spend time with, they just sort of hit it.

From the start it seems like Chance is poised for a moral slide, because he quickly agrees to go along with the fraud of selling his desk. Do you see it that way?

The soil has been turned, as it were, and is ready to receive the seed. Maybe that's a function of my age. If Chance had been 30, maybe one would want to see a period of optimism and diligence and good citizenship before the disillusionment set in. But here I am, a rickety old fellow of 57, and that is an age ripe for disillusionment. It is an age which, as you probably know, when men most commonly jump off railway bridges and seek to end their lives. Perhaps for that reason they come to an appraisal of their state and say life is not what they had hoped it would be, and that makes them ripe for some form of drastic action, whether it's buying a Ferrari or going to Vegas and blowing a whole lot on the tables…

…or joining a drama on a streaming TV network.

I'd like to think that's a slightly milder form of the pathology, but that would be part of it, yeah.

What do you make of these phrases that keep popping up in the dialogue: "getting right" and "making things right"?

Personally I think it's impossible, but the instinct to do it makes us who we are. That striving for perfection in ourselves or others is virtually what defines us as individuals, as a species. At the same time I think forgiveness and some degree of resignation is probably the road to happiness. We're fallible creatures, but that fallibility doesn't stop people from being lovable. But I do think the character Chance is poised between that forgiving nature and D.'s creed, which is unforgiving and about survival. He's schooled in a different set of experiences, though it turns out that his experiences aren't quite what they appear to be. Even so, he is about survival and all things are forgivable in the furtherance of that goal. Chance becomes entranced by that, and also probably develops kind of a crush on D., because there is something so exhilarating about the simplicity and directness of his way of living. It's a refuge from the endless complication, compromise and acceptance of defeat that characterizes Chance's life.
My own father was a physician. I remember when I was young, he would get birthday cards from grateful patients, or someone would knit him a pair of socks or send a bottle of whiskey at Christmas. I spent time with a neuropsychiatrist in preparation for this, and I asked if the same thing happened for him, and he said, "No, because I don't really heal anybody. The best I can do is manage terrible situations. I try to help people find the least bad option, and that's about it." That's a pretty grim field in which to work. You need to be made of stern stuff to survive in that world.

As a musician, what do you think about the score? It's got a very foreboding but unpredictable way of setting the mood.

The person who can most affect the final destination of a project is the composer. I once happened to be in Holland and just flicking through the available adult channels out of curiosity, you understand, or maybe I didn't know how the television worked. Let's put it that way. And I came across a jaunty piece of Dutch adult cinema with a score that had been taken from a children's TV show in England. And the juxtaposition of those two things actually sort of scarred me for life. I can neither look at children's television nor pornography ever again. Both of those avenues are closed to me now. Put the wrong piece of music on the picture and you end up in a very weird place. But in "Chance," both the cinematographer [Terry Stacey] and the composer [Will Bates] understood noir in the sense of shadow and darkness and wielded it with skill.

Pacing is a big issue in TV now because people either binge TV or consume it gradually over time. Do you prefer the slower rhythm of this show?

One thing I loved from the very first script is that it was almost tantric in its slowness. Generally the fashion in television is to get faster and faster and find a shorthand the audience understands. I relish the opportunity to go in the other direction. I don't know that we actually stuck to that [in "Chance"] because I bet there was some pressure from executives who said, "For God's sake, can we get a move on?" Even though you're telling your own story, you have to be aware of the rhythms that people are used to. How long can you hold the shot of a teacup before people start slapping the side of their TV thinking it's broken? How long can you stay in a scene? I love the idea of revealing things as slowly as possible, as slowly as you can ride the bike without falling over.

It seems like the only reason not to do the show was the inevitable comparison between Chance to House.

That is a bit of a worry. Superficially it would seem like I'm doing more of the same. That was in my head for about a page and a half and then I completely forgot about House. But it can't be helped–if people hear me say a medical term they'll be put in the mind of "House." Or maybe nobody remembers "House." I suppose maybe I should be playing a hardened cop or the angry district attorney or something, but there are a lot of doctors in this country, so I can't believe there's just one type.


Статья появилась вчера на сайте
Звезда вмурована в тротуар Голливудского бульвара, и теперь любой может по ней потоптаться, оставить "жвачку, собачьи какашки и ещё чего похуже" &copyСтивен Фрай.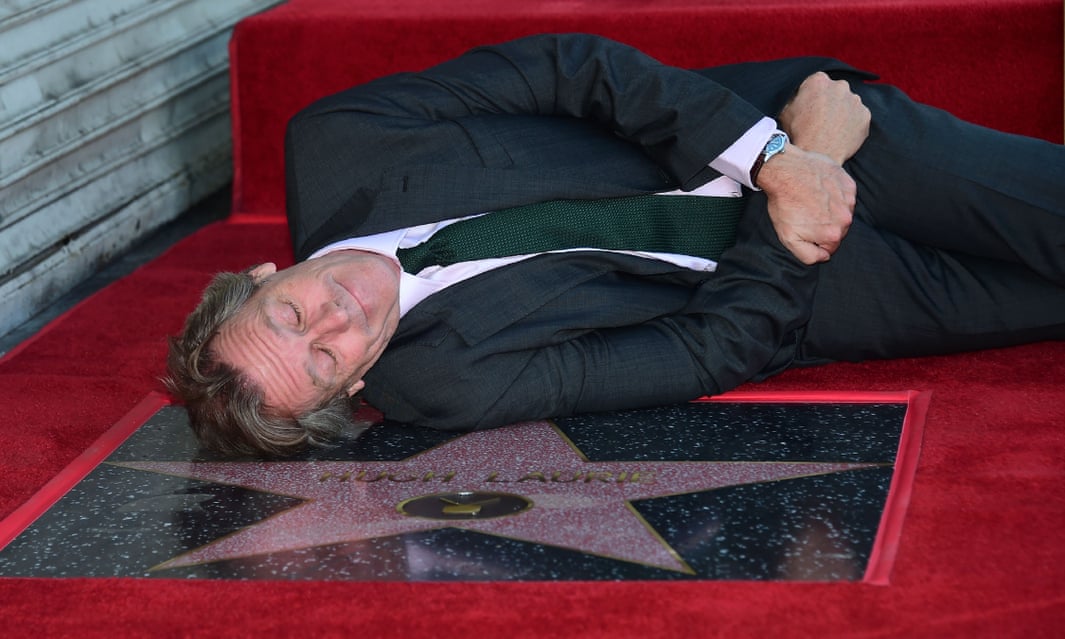 Полная запись церемонии
здесь
Фотографы наделали столько фото, что их и пересмотреть все нереально, не то, что принести.
(
Read more...
Collapse
)
Очень много фото собрано
на сайте прекрасной mj1985
, как всегда в высоком разрешении.
Состоялось!
Увидимся завтра, док!
- из твиттере продюсера Аны Мартинес.
See you tomorrow Doc! @HughLaurie#Thedoctorisin pic.twitter.com/ersZnSdRnC

— Ana Martinez (@wofstargirl) October 24, 2016
Напоминаю, что сегодня в 11:30 по
западноамериканскому
времени начнётся прямая онлайн-трансляция церемонии открытия именной звезды на Голливудском бульваре, за личным присутствием Хью и Стивена.
Трансляция будет
здесь
или
здесь
. Там же на экране указано время начала для вашего региона (у меня - 21:30) и ведётся обратный отсчёт.
В общем, приятного всем просмотра!
20161019-Colbert Late Show - HughLaurie.rus.sub from Sofiko1968 on Vimeo.
Перевод - kotofyr, субтитры - sofiko1968, для сайта
house-md.net.ru
Примечания:
*на поле для гольфа 18 лунок, пройти все лунки всего за одни удар — невероятное, божественное везение
**независимые кандидаты
***Трамп был ведущим шоу о немилосердной борьбе за супер-работу
****соперник Клинтон в борьбе за номинацию, уступил ей и объявил о своей поддержке
*****считается, что дети, которых кормили грудью, вырастают добрее и лучше
******на последних дебатах Клинтон была в снежно-белом костюме
*******de gustibus non disputandum est — о вкусах не спорят
Видео
Субтитры
Хью Лори побывал на шоу Стивена Кольбера как раз в разгар дебатов кандидатов в президенты.